IN GYM PERSONAL TRAINING CALGARY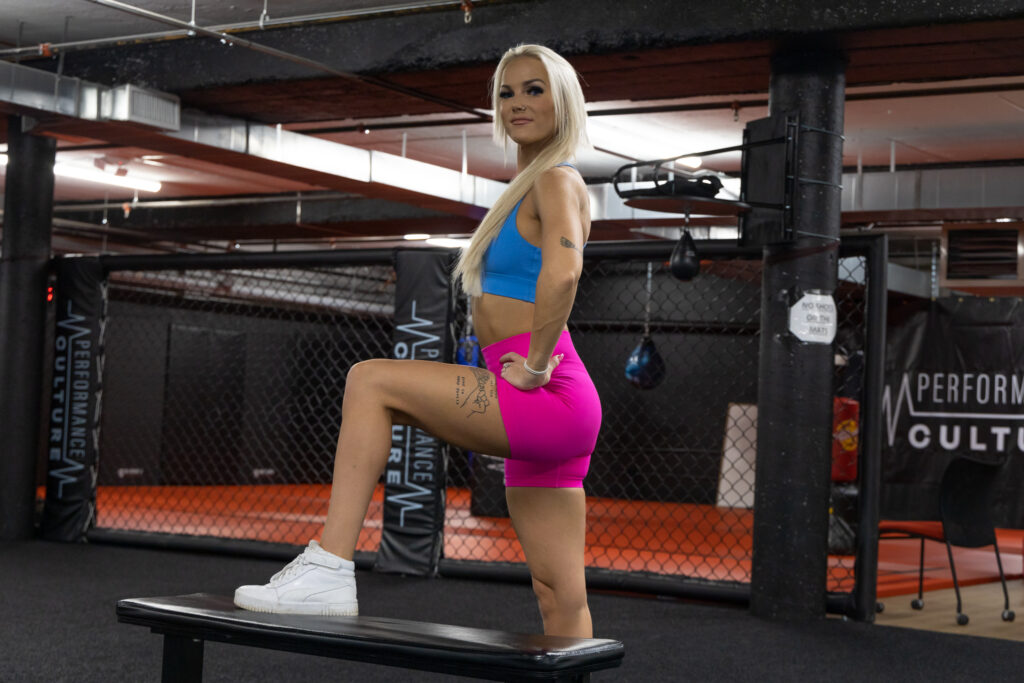 Are you tired of trying to get in shape without any direction? At Sculpted Fitness, we believe that personal training is the most effective way to reach your health and fitness goals, and learn how to maintain your results.
My name is Kass Ballard and I'm one of Sculpted Fitness's professional personal trainers in Calgary. I am dedicated to providing personalized workouts that are tailored to your specific needs and preferences.
I will work with you to create a custom exercise programs that are designed to help you reach your goals as efficiently and safely as possible. Next we work with a nutrition coach, to build a diet that aligns with your goals.
In addition to providing expert guidance and support, I'm extremely passionate about keeping you on track and motivated throughout your fitness journey.
ACHIEVE YOUR GOALS FASTER WITH A CERTIFIED PERSONAL TRAINER
We will analyze your body type, fitness history and injuries to design the perfect plan to help you achieve your fitness goals. Through daily check-ins and private training session we will identify and overcome any barriers or challenges that may be holding you back, and provide you with the support and motivation you need to stay on track and make progress.
It's important to constantly surprise your body with new and exciting workouts to achieve your dream body fast. A personal trainer can be a valuable asset in reaching your goals faster and more effectively.
I am an ACE certified personal trainer. I am passionate about helping others achieve their fitness goals and have experienced the transformative power of exercise and a healthy lifestyle firsthand.
Growing up, I was always active and played sports like soccer, volleyball, and gymnastics. However, after college, I fell out of my healthy habits and found myself 30lbs heavier and feeling miserable. That's when I decided to make a change and rediscovered my love for the gym and a healthy lifestyle. It completely turned my life around and improved my mental health and overall well-being.
Now, my mission is to help others find the same joy and benefits in fitness that I have. I believe that with discipline, consistency, plan based training and the right tools, anyone can achieve the level of strength and fitness they've always dreamed of.
When you work with me, I am 100% dedicated to your long term success and will do whatever it takes to help you reach your goals – even if it means showing up at your house like a crazy ex to drag you out of bed for a morning workout!
I understand that everyone is different and that's why I provide customized workout and meal plans for each of my clients, tailored to their specific body type. So if you're ready to make a change and become the best version of yourself, don't hesitate to reach out and let's start your journey to a brand new success story!
KASS BALLARD - OWNER OF SCULPTED FITNESS
FREQUENTLY ASKED QUESTIONS
1) What are the benefits of personal training?
Some of the benefits of personal training include personalized attention, accountability, motivation, and a customized workout plan designed to fit your unique goals and abilities. Additionally, a personal trainer can help you avoid injury and achieve results more efficiently.
2) How often should I meet with my personal trainer each week?
The frequency of your sessions will depend on your individual goals and availability. Most people start with one to two sessions per week, but your trainer will work with you to determine the best schedule for your needs.
3) What should I expect during a personal training session?
During a personal training session, you can expect to engage in a variety of exercises tailored to your fitness goals. Your trainer will provide guidance on proper form and technique, and may also incorporate cardio, strength training, and stretching exercises into your session.
If you're looking to make a change and finally achieve the results that you've always dreamed of, contact me today to request a consultation. We will review your fitness goals, and find the perfect plan designed for your body type.